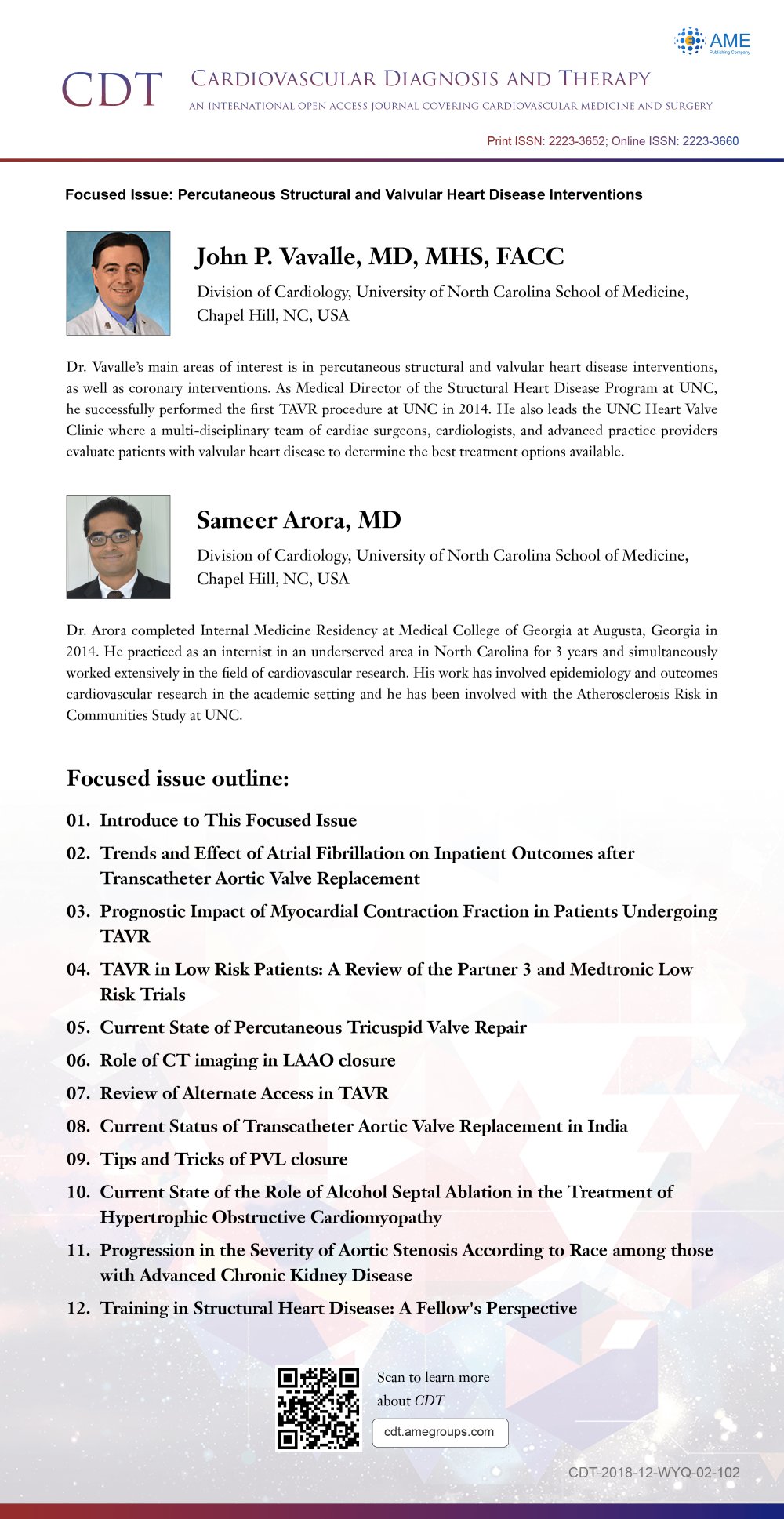 This focused issue on "Percutaneous Structural and Valvular Heart Disease Interventions" is edited by Dr. John P. Vavalle and Dr. Sameer Arora, from Division of Cardiology, University of North Carolina School of Medicine, Chapel Hill, NC, USA

Dr. John P. Vavalle's main areas of interest is in percutaneous structural and valvular heart disease interventions, as well as coronary interventions. As Medical Director of the Structural Heart Disease Program at UNC, he successfully performed the first TAVR procedure at UNC in 2014. He also leads the UNC Heart Valve Clinic where a multi-disciplinary team of cardiac surgeons, cardiologists, and advanced practice providers evaluate patients with valvular heart disease to determine the best treatment options available.

Dr. Sameer Arora completed Internal Medicine Residency at Medical College of Georgia at Augusta, Georgia in 2014. He practiced as an internist in an underserved area in North Carolina for 3 years and simultaneously worked extensively in the field of cardiovascular research. His work has involved epidemiology and outcomes cardiovascular research in the academic setting and he has been involved with the Atherosclerosis Risk in Communities Study at UNC.


Focused issue outline:
Introduce to This Focused Issue
John P. Vavalle and Sameer Arora, Division of Cardiology, University of North Carolina School of Medicine, Chapel Hill, NC, USA
Trends and Effect of Atrial Fibrillation on Inpatient Outcomes after Transcatheter Aortic Valve Replacement
John P. Vavalle and Sameer Arora, Division of Cardiology, University of North Carolina School of Medicine, Chapel Hill, NC, USA
Prognostic Impact of Myocardial Contraction Fraction in Patients Undergoing TAVR
Francisco J. Romeo, Interventional Cardiology Department, Hospital Italiano de Buenos Aires, Buenos Aires, Argentina
TAVR in Low Risk Patients: A Review of the Partner 3 and Medtronic Low Risk Trials
Mauricio G. Cohen, Cardiovascular Division, University of Miami Miller School of Medicine, Miami, FL, USA
Current State of Percutaneous Tricuspid Valve Repair
Dhaval Kolte, Division of Cardiology, Massachusetts General Hospital, Harvard Medical School, Boston, MA, USA
Role of CT imaging in LAAO closure
Dee Dee Wang, Center for Structural Heart Disease, Henry Ford Health System, Detroit, MI, USA
Review of Alternate Access in TAVR
Todd Kiefer, Division of Cardiology, Duke University Medical Center, Durham, NC, USA
Current Status of Transcatheter Aortic Valve Replacement in India
Ashok Seth, Fortis Escorts Heart Institute, New Delhi, India
Tips and Tricks of PVL closure
Michael Yeung, Division of Cardiology and McAllister Heart Institute, University of North Carolina, Chapel Hill, NC , USA
Current State of the Role of Alcohol Septal Ablation in the Treatment of Hypertrophic Obstructive Cardiomyopathy
John Douglas, Division of Cardiology, Department of Medicine, Emory University School of Medicine, Atlanta, GA, SUA
Progression in the Severity of Aortic Stenosis According to Race among those with Advanced Chronic Kidney Disease
John P. Vavalle, Division of Cardiology, University of North Carolina School of Medicine, Chapel Hill, NC, USA
Training in Structural Heart Disease: A Fellow's Perspective
Sun Moon Kim, Department of Medicine, University of North Carolina at Chapel Hill, Chapel Hill, NC, USA
Bennet George, Gill Heart and Vascular Institute, University of Kentucky, Lexington, KY, USA
Matthew J. Chung, Duke University, Durham, NC, USA