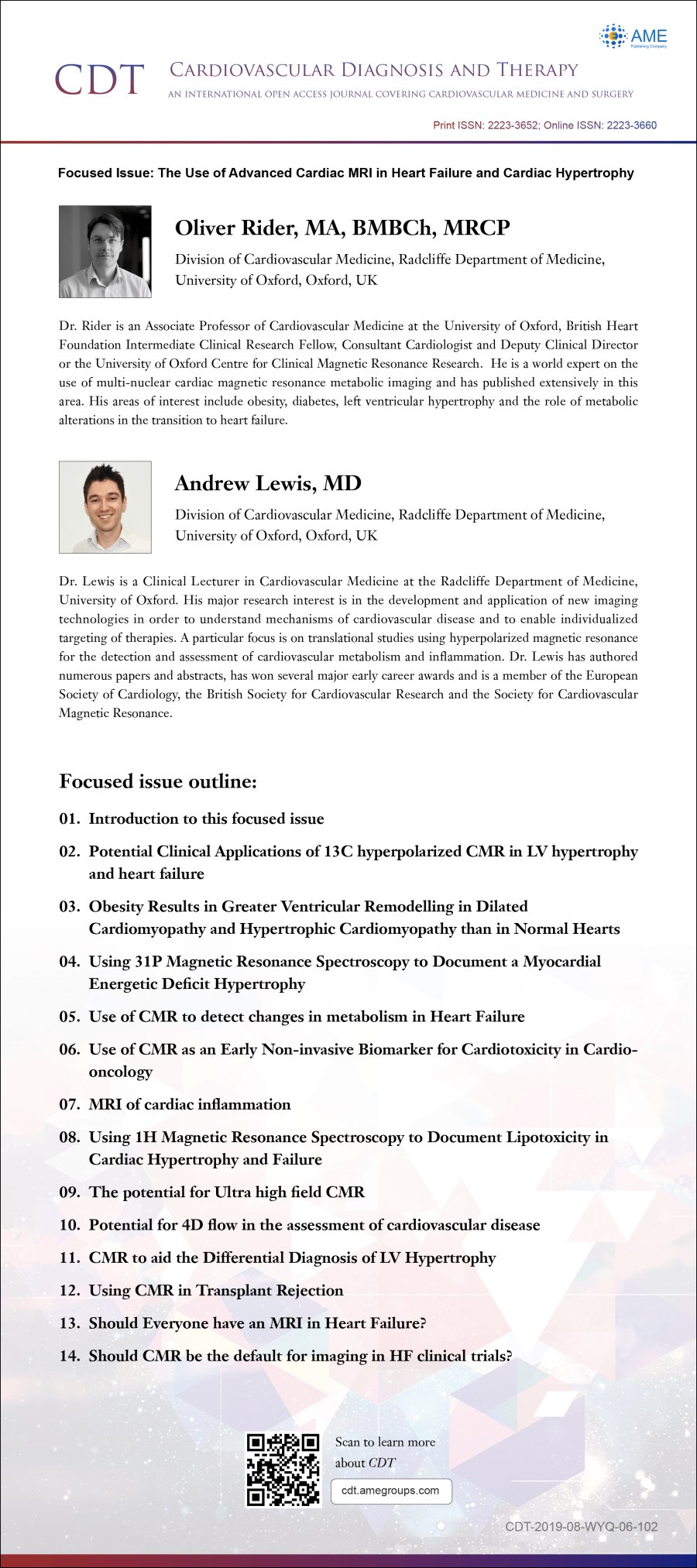 This focused issue on "The Use of Advanced Cardiac MRI in Heart Failure and Cardiac Hypertrophy" is edited by Dr. Oliver Rider and Dr. Dr. Andrew Lewis from Division of Cardiovascular Medicine, Radcliffe Department of Medicine, University of Oxford, Oxford, UK.
Dr. Rider is an Associate Professor of Cardiovascular Medicine at the University of Oxford, British Heart Foundation Intermediate Clinical Research Fellow, Consultant Cardiologist and Deputy Clinical Director or the University of Oxford Centre for Clinical Magnetic Resonance Research. He is a world expert on the use of multi-nuclear cardiac magnetic resonance metabolic imaging and has published extensively in this area. His areas of interest include obesity, diabetes, left ventricular hypertrophy and the role of metabolic alterations in the transition to heart failure.

Dr. Lewis is a Clinical Lecturer in Cardiovascular Medicine at the Radcliffe Department of Medicine, University of Oxford. His major research interest is in the development and application of new imaging technologies in order to understand mechanisms of cardiovascular disease and to enable individualized targeting of therapies. A particular focus is on translational studies using hyperpolarized magnetic resonance for the detection and assessment of cardiovascular metabolism and inflammation. Dr. Lewis has authored numerous papers and abstracts, has won several major early career awards and is a member of the European Society of Cardiology, the British Society for Cardiovascular Research and the Society for Cardiovascular Magnetic Resonance.
Proposed focused issue outline:
Introduction to this focused issue
Potential Clinical Applications of 13C hyperpolarized CMR in LV hypertrophy and heart failure
Obesity Results in Greater Ventricular Remodelling in Dilated Cardiomyopathy and Hypertrophic Cardiomyopathy than in Normal Hearts
Using 31P Magnetic Resonance Spectroscopy to Document a Myocardial Energetic Deficit Hypertrophy
Use of CMR to detect changes in metabolism in Heart Failure
Use of CMR as an Early Non-invasive Biomarker for Cardiotoxicity in Cardio-oncology
MRI of cardiac inflammation
Using 1H Magnetic Resonance Spectroscopy to Document Lipotoxicity in Cardiac Hypertrophy and Failure
The potential for Ultra high field CMR
Potential for 4D flow in the assessment of cardiovascular disease
CMR to aid the Differential Diagnosis of LV Hypertrophy
Using CMR in Transplant Rejection
Should Everyone have an MRI in Heart Failure?
Should CMR be the default for imaging in HF clinical trials?