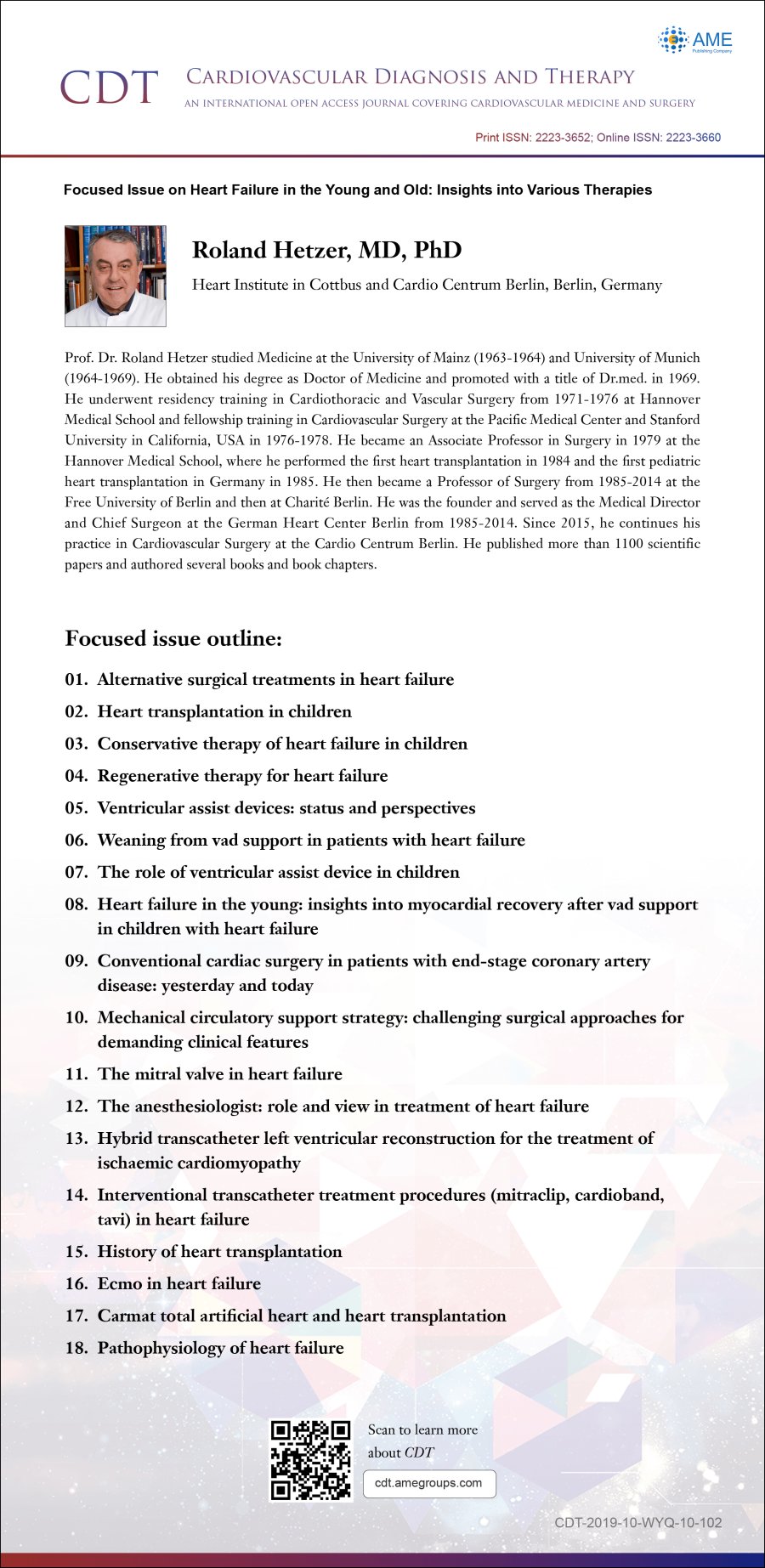 This focused issue on "Heart Failure in the Young and Old: Insights into Various Therapies" is edited by Dr. Roland Hetzer from Heart Institute in Cottbus and Cardio Centrum Berlin, Berlin, Germany.
Roland Hetzer, MD, PhD
Heart Institute in Cottbus and Cardio Centrum Berlin, Berlin, Germany
Prof. Dr. Roland Hetzer studied Medicine at the University of Mainz (1963-1964) and University of Munich (1964-1969). He obtained his degree as Doctor of Medicine and promoted with a title of Dr.med. in 1969. He underwent residency training in Cardiothoracic and Vascular Surgery from 1971-1976 at Hannover Medical School and fellowship training in Cardiovascular Surgery at the Pacific Medical Center and Stanford University in California, USA in 1976-1978. He became an Associate Professor in Surgery in 1979 at the Hannover Medical School, where he performed the first heart transplantation in 1984 and the first pediatric heart transplantation in Germany in 1985. He then became a Professor of Surgery from 1985-2014 at the Free University of Berlin and then at Charité Berlin. He was the founder and served as the Medical Director and Chief Surgeon at the German Heart Center Berlin from 1985-2014. Since 2015, he continues his practice in Cardiovascular Surgery at the Cardio Centrum Berlin. He published more than 1100 scientific papers and authored several books and book chapters.
Focused issue outline:
Alternative surgical treatments in heart failure
Heart transplantation in children
Conservative therapy of heart failure in children
Regenerative therapy for heart failure
Ventricular assist devices: status and perspectives
Weaning from vad support in patients with heart failure
The role of ventricular assist device in children
Heart failure in the young: insights into myocardial recovery after vad support in children with heart failure
Conventional cardiac surgery in patients with end-stage coronary artery disease: yesterday and today
Mechanical circulatory support strategy: challenging surgical approaches for demanding clinical features
The mitral valve in heart failure
The anesthesiologist: role and view in treatment of heart failure
Hybrid transcatheter left ventricular reconstruction for the treatment of ischaemic cardiomyopathy
Interventional transcatheter treatment procedures (mitraclip, cardioband, tavi) in heart failure
History of heart transplantation
Ecmo in heart failure
Carmat total artificial heart and heart transplantation
Pathophysiology of heart failure
Disclosure:
The focused issue "Heart Failure in the Young and Old: Insights into Various Therapies" was commissioned by the editorial office, Cardiovascular Diagnosis and Therapy without any sponsorship or funding. Roland Hetzer is serving as the unpaid Guest Editor for the focused issue.