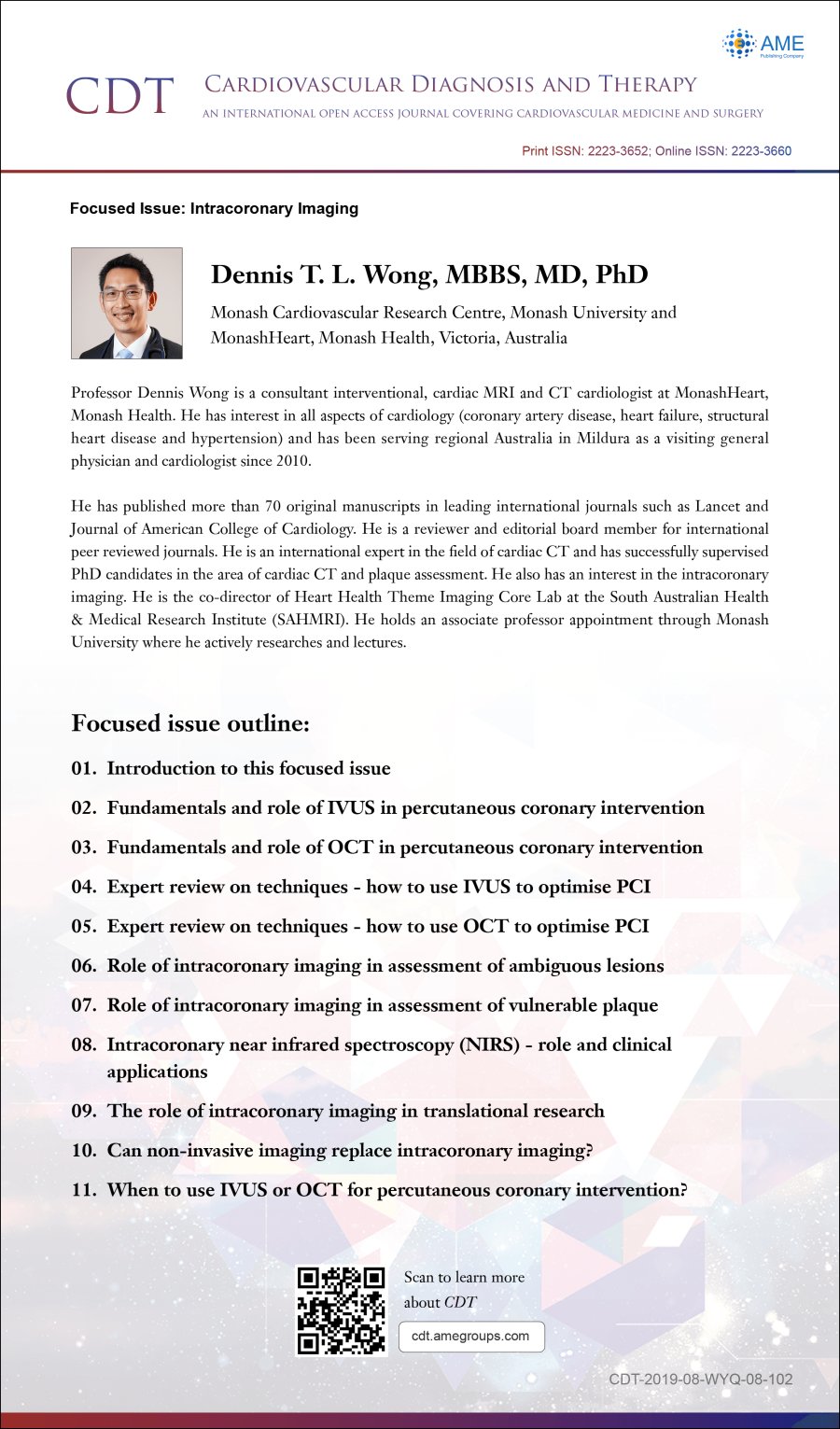 This focused issue on "Intracoronary Imaging" is edited by Dr. Dennis T. L. Wong, MBBS, MD, PhD, Monash Cardiovascular Research Centre, Monash University and MonashHeart, Monash Health, Victoria, Australia.
Professor Dennis Wong is a consultant interventional, cardiac MRI and CT cardiologist at MonashHeart, Monash Health. He has interest in all aspects of cardiology (coronary artery disease, heart failure, structural heart disease and hypertension) and has been serving regional Australia in Mildura as a visiting general physician and cardiologist since 2010.
He has published more than 70 original manuscripts in leading international journals such as Lancet and Journal of American College of Cardiology. He is a reviewer and editorial board member for international peer reviewed journals. He is an international expert in the field of cardiac CT and has successfully supervised PhD candidates in the area of cardiac CT and plaque assessment. He also has an interest in the intracoronary imaging. He is the co-director of Heart Health Theme Imaging Core Lab at the South Australian Health & Medical Research Institute (SAHMRI). He holds an associate professor appointment through Monash University where he actively researches and lectures.
Focused issue outline:
Introduction to this focused issue
Fundamentals and role of IVUS in percutaneous coronary intervention
Fundamentals and role of OCT in percutaneous coronary intervention
Expert review on techniques - how to use IVUS to optimise PCI
Expert review on techniques - how to use OCT to optimise PCI
Role of intracoronary imaging in assessment of ambiguous lesions
Role of intracoronary imaging in assessment of vulnerable plaque
Intracoronary near infrared spectroscopy (NIRS) - role and clinical applications
The role of intracoronary imaging in translational research
Can non-invasive imaging replace intracoronary imaging?
When to use IVUS or OCT for percutaneous coronary intervention?