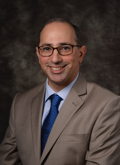 Dominick J. Angiolillo, MD, PhD
Division of Cardiology, University of Florida College of Medicine, Jacksonville, FL, USA
Dominick Angiolillo is a Professor of Medicine with tenure status. He is also the Director of Cardiovascular Research, Program Director of the Interventional Cardiology Fellowship Program and a staff cardiologist and interventional cardiologist with the University of Florida Health System. Dr. Angiolillo is board certified by the American Board of Internal Medicine in internal medicine, cardiovascular disease and interventional cardiology.
Much of Dr. Angiolillo's professional career has been devoted to cardiovascular research in the field of interventional cardiology and acute coronary syndrome. His largest national and international recognition has been for his pivotal contributions in the field of thrombosis. In particular, Dr. Angiolillo has performed seminal studies on platelet function and modulation of antiplatelet drug response, including genetic studies, for which he has received numerous national and international academic recognitions. He has also been a key investigator in the clinical development of numerous novel antithrombotic agents, working along slide with drug regulating agencies across the globe. His success in obtaining extramural funding has allowed to develop one of the most active clinical research centers in the United States as well as one of the leading centers for thrombosis research in the world.
Dr. Angiolillo has made major scientific contributions to many medical and cardiovascular journals, as well as textbooks of cardiovascular medicine. He has authored 400 peer-reviewed articles. He has authored 35 book chapters, and he is the editor of his own textbook on antithrombotic medicine. Due to his major contributions to the field of antithrombotic therapy in patients with cardiovascular disease manifestations, Dr. Angiolillo has been invited to deliver numerous lectures across the globe. His leadership role as an academic clinician scientist has allowed to him to nurture and promote career growth and development of many young trainees pursuing both academic and clinical careers in the United States and abroad.