Editor-in-Chief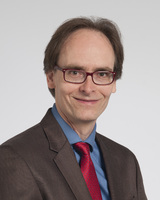 Paul Schoenhagen, MD
Cleveland Clinic, Cleveland, OH, USA
Professor Paul Schoenhagen, MD, is a staff physician in the Department of Diagnostic Radiology and in the Robert and Suzanne Tomsich Department of Cardiovascular Medicine at the Cleveland Clinic in Cleveland, Ohio, USA. His particular clinical interest is focused on cardiovascular imaging with computed tomography and magnetic resonance imaging for coronary and aortic disease.
He received his medical degree from the Karls-Universitaet, Tuebingen, and doctoral degree from the the Philips-Universitaet, Marburg, Germany. He received clinical training in Stuttgart, Germany and at the Cleveland Clinic, where he assumed a staff position in 2003.
Dr. Schoenhagen has been honored for his clinical research, which has focused on the implications of plaque vulnerability, intravascular ultrasound research and the application of computed tomography and magnetic resonance imaging for atherosclerosis research.
He has published numerous original and review articles in leading peer-reviewed journals such as the Journal of the American Medical Association, Circulation,the Journal of the American College of Cardiology, and the European Heart Journal. Dr. Schoenhagen is the author of textbook about Coronary Intravascular Ultrasound Imaging, Cardiovascular Computed Tomography, and Acute Aortic Syndromes. Further, he has contributed to numerous chapters in medical textbooks related to his specialty interests. He has been invited to present his clinical experience and research at conferences in Japan, China, Europe, Australia, and North America.