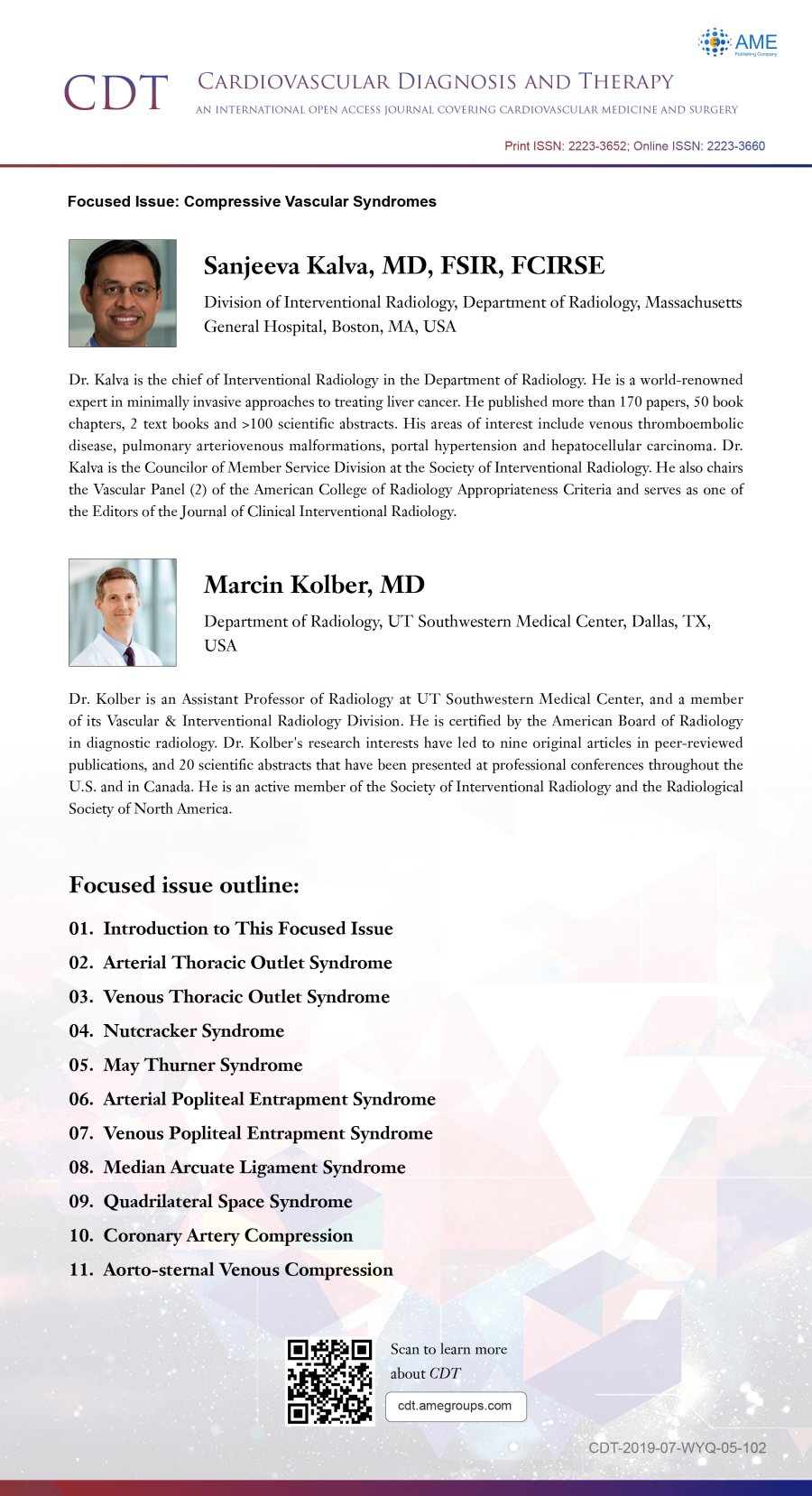 This focused issue on "Compressive Vascular Syndromes" is edited by Dr. Sanjeeva Kalva, from Division of Interventional Radiology, Department of Radiology, Massachusetts General Hospital, Boston, MA, USA; and Dr. Marcin Kolber, from Department of Radiology, UT Southwestern Medical Center, Dallas, TX, USA.
Dr. Sanjeeva Kalva is the chief of Interventional Radiology in the Department of Radiology. He is a world-renowned expert in minimally invasive approaches to treating liver cancer. He published more than 170 papers, 50 book chapters, 2 text books and >100 scientific abstracts. His areas of interest include venous thromboembolic disease, pulmonary arteriovenous malformations, portal hypertension and hepatocellular carcinoma. Dr. Kalva is the Councilor of Member Service Division at the Society of Interventional Radiology. He also chairs the Vascular Panel (2) of the American College of Radiology Appropriateness Criteria and serves as one of the Editors of the Journal of Clinical Interventional Radiology.
Dr. Marcin Kolber is an Assistant Professor of Radiology at UT Southwestern Medical Center, and a member of its Vascular & Interventional Radiology Division. He is certified by the American Board of Radiology in diagnostic radiology. Dr. Kolber's research interests have led to nine original articles in peer-reviewed publications, and 20 scientific abstracts that have been presented at professional conferences throughout the U.S. and in Canada. He is an active member of the Society of Interventional Radiology and the Radiological Society of North America.
Proposed focused issue outline:
Introduction to This Focused Issue
Arterial Thoracic Outlet Syndrome
Venous Thoracic Outlet Syndrome
Nutcracker Syndrome
May Thurner Syndrome
Arterial Popliteal Entrapment Syndrome
Venous Popliteal Entrapment Syndrome
Median Arcuate Ligament Syndrome
Quadrilateral Space Syndrome
Coronary Artery Compression
Aorto-sternal Venous Compression